Once again, I bring an excerpt in from Savannah Chase, a wonderful author and friend of mine who donated a few excerpts for today's cause.
I bought this anthology when it was released, and I absolutely loved it! This story was one of my favorites. If you have the chance, do check it out along with its many talented authors in it.
Please Note: I am blogging on behalf of the Boston Rape Crisis Center, and if you wish to sponsor me in any dollar amount--none is too small, every bit counts!--please go here: http://tinyurl.com/AdrianneBlogsforBARCC then email me your receipt at adrianne@adriannebrennan.com so I can keep a running total. If you don't know what to put down for the donation, just put "Adrianne Brennan - Blogathon".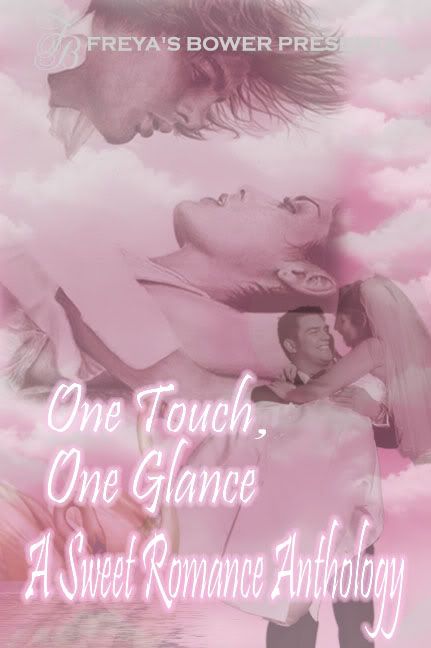 One Touch, One Glance: A Sweet Romance Anthology
Available December 9, 2008
by Various
Genre: Anthology/Contemporary/Time Travel
Rating: Sweet
Book Length: Humongous Novel
Price: $6.49
Whatever happened to good, old-fashioned romance? Remember reading about a man's clothed physique, or how a fellow admired a woman in a pretty red dress? How about stories where couples fall in love with just one glance or that first gentle touch? Then open this anthology and enjoy 18 beautiful stories of love lost, love found, intrigue, heartache healed, the miracles of life, passionate admissions, and tearjerkers that make one sigh with longing. From best friends who find romance to time travel to a bit of Christmas magic, step into the realm of hearts on fire and love everlasting.
Authors: Gwen Hayes, M.E. Ellis, Maryann Miller, Adelle Laudan, K. Starling, Trinity Blacio, Debbie Gould, Ava James, Faith Bicknell-Brown, Savannah Chase, Lisa Alexander Griffin, Kensana Darnell, Brieanna Robertson, Nicolette Zamora, Kathleen MacIver, Missy Lyons, and Jambrea Jo Jones
He's On The Menu by Savannah Chase
One Touch One Glance A Sweet Romance Anthology
All Jessie wanted to do was get home safe and sound from a shift at the diner, not crash her car into a tour bus that belongs to a mega star. Ian's traveled the world and met lots of women but non like the one who's crashed into his life. She's different and unforgettable and now he's ready to show her he's perfect for her and just the thing she needs on her menu.
Excerpt
A sudden stop and the sound of crunching metal startled Jessie. She shrieked as her forehead cracked the steering wheel. Thank God she hadn't been driving any faster or the airbags might have deployed. Rain washed over the windshield, the wipers struggling to keep up, but she couldn't see anything beyond the car's grill ornament.
"Darn it! No! Please don't let me have hit someone." She shifted the car into park and turned the engine off.. Jessie swallowed a lump in her throat. Frantically, she reached for her seatbelt with damp, shaking hands. Once the seatbelt clicked, her heart raced a mile a minute. Tears streamed down her face. She didn't know what she would do if she'd harmed anyone.
She opened the car door and got out. Dark clouds blanketed the sky, and the rain still fell fast, hard. Jessie inspected the damage and what she'd crashed her car into. Every possible thought ran through her head as she looked at the bus she'd just hit. It wasn't just any bus. Oh, no…this was a large, black-and-silver tour bus.
This couldn't be happening to her. How on earth would she explain this to her insurance company? How would she explain this to the owner of the bus?
Her shoes squeaked with every step she took. Water sloshed around her toes, and her running shoes were ready to fall off at any moment. She approached to knock on the bus's door, but it opened before she touched it.
"I'm sorry. I'm so sorry. I didn't see your bus parked here," she called out.
"My bus driver is going to kill you," a voice said.
Buy Now